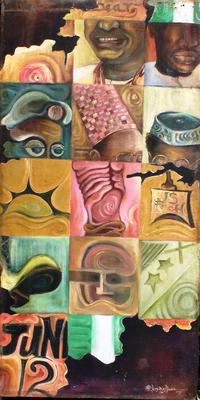 Chuu Krydz Ikwuemesi (b. 1967), painter, art critic, ethno-aesthetician and cultural entrepreneur, has a BA (First Class Honours) in Fine and Applied Arts, an MFA in Painting and a PhD in Art History from University of Nigeria, Nsukka.
He is the founder of the Pan-African Circle of Artists (PACA) and Emeritus President of The Art Republic (Centre for Arts and Cultural Democracy), Enugu. He has participated in workshops and creative residencies and has directed Afrika Heritage (the PACA Biennale), Overcoming Maps (PACA Study Tour of Africa), and the Mmanwu Theatre in Enugu. Ikwuemesi has researched and published on aspects of ethno-aesthetics with special interest in Igbo and Ainu (aboriginal Japanese) arts.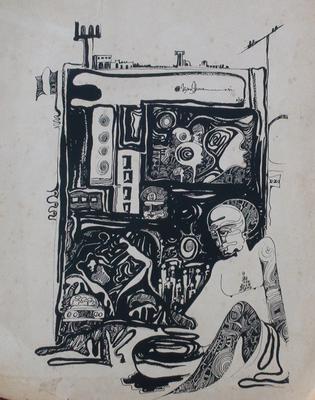 He is the editor of The Art Republic, Letter from Afrika, and The ArtField (journal of the Department of Fine and Applied Arts, UNN), and Associate Professor in the Department of Fine and Applied Arts, University of Nigeria, Nsukka. He was a Visiting Associate Professor at the National Museum of Ethnology, Osaka, Japan in 2008 and was a Japan Foundation Fellow in Hokkaido in 2009; he is a Fellow of the American Council of Learned Societies' African Humanities Program and a Senior Fellow of IFRA (French Institute for Research in Africa).
A polyvalent artist of superlative merit, Ikwuemesi is currently the coordinator of the Death Studies Association of Nigeria. He has held several solo and group exhibitions and published many articles on art.
Link to the original article here.
back